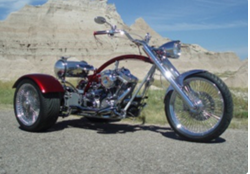 The story of Flyin' Trike: While partying at the Black Cloud Saloon during Daytona Biketoberfest 2007, Tom & Christi came across a chopper trike that had been built with a Mystery Design chrome rear end. They had been talking about creating a chopper style trike and seeing this one confirmed that they would build one in their own style & flair. When deciding what to build, Christi mentioned that when was 5, the Radio Flyer trike she got when she was two was stolen. So to make up for this childhood incident, Tom thought of using the Radio Flyer Tricycle as the inspiration for the design.
Two days before Christmas, they decided on the radio flyer project and Tom had to find a trike to scale for the build. After visiting 5 stores, he found one and brought it home to measure. He designed Flyin' Trike's entire frame on CAD, then sent the frame CAD drawings to Rolling Thunder to build. Many other parts were designed that were CNC machined for the project. From the time the frame and parts arrived, Tom assembled it in 28 days with a lot of cooperation from the CNC machine shop and Money Mike.
This trike went on to win lots of trophies around the USA.Call (407) 847-0119 or visit Trike Conversion Kits for more information on making your own trike dream come true. To see Version 2 modifications after it was sold, click here.
*** Click here for more information about trike conversions.
Custom Trike Choppers - Flyin' Trike Specifications.
Manufacturer: Art In Motion, LLC, Frame Designer: Tom Kapp, Computer Aided Design (CAD): Tom Kapp, Frame Manufacturer: Rolling Thunder Manufacturing, Builder: Tom Kapp, Rake: 38, Year/Model: 2008/Trike , Front Forks: V-Twin Manufacturing, Time to build: 6 weeks, Front fender: Milwaukee Iron, Chrome: Exotic Chrome, Front Wheel: American Wire Wheel 100 Spoke Radial, Paint: Tom Kapp, Front tire: Avon Venom 120/70-21, CNC Work: Starr Machine, Rear End, Mystery Designs, Engine: S&S, Rear fender: Mystery Designs, Builder: S&S, Rear Wheel: American Wire Wheel 100 Spoke Radial, Displacement: 96 CI, Rear tire: Verdestein, Horsepower: 95 Hp, Rear brake: Wilwood, Cases: S&S, , Flywheels: S&S, ACCESSORIES, Heads: S&S, Headlight: Wyatt Gatling, Cam, S&S, Lighting controller: Bulletproof Electronics, Carb: S&S, Taillight: S&S, Exhaust: Vance & Hines, Fuel tank: Moon, Mufflers: -, Handlebars: Wild Ones Chubby R.K. II, Ignition: S&S, Seat: V-Twin Manufacturing, Primary: Harley-Davidson, Floorboards: V-Twin Manufacturing, Transmission: Ultima 5-speed, Instrumentation: Badlands, Clutch: Harley-Davidson, Mirrors: Badlands, Final drive: Chain, Hand Controls, Arlen Ness