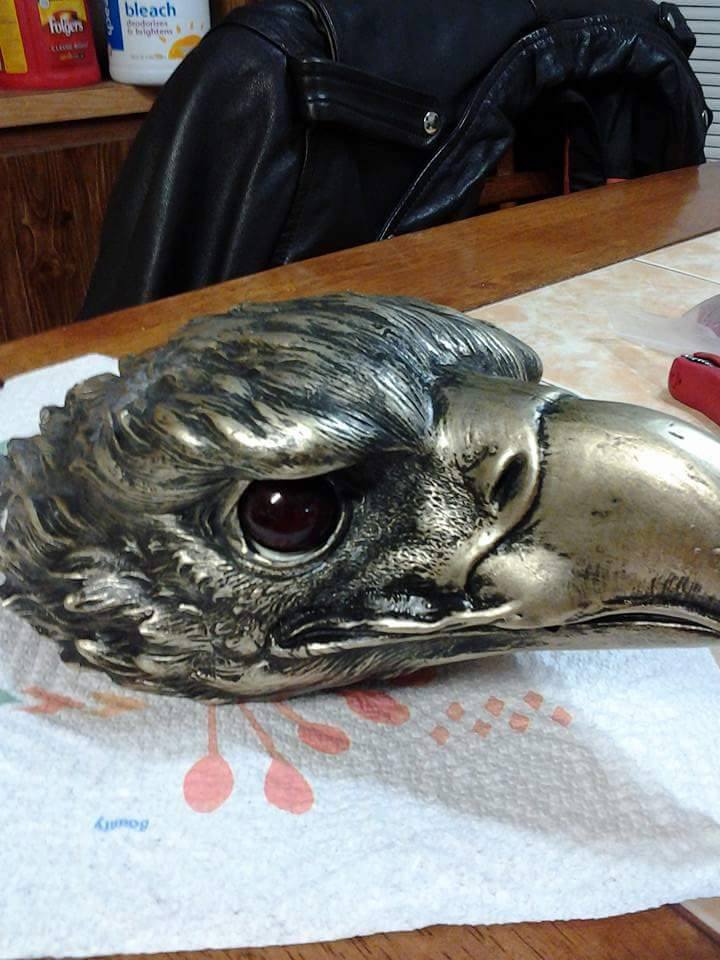 This is an example of how someone can think up a great idea, and then use their creativity and persistence to make their dream come true. Bobby Dulin's motorcycle is a 2010 Harley Street Glide (CVO Screaming Eagle). He knew the paint was beautiful becuase it was a CVO, but he wanted to use his creative side to do something unique and cool. He found an eagle bust made of resin on eBay and bought it. To add it to the bike, he did the following:
First, he sectioned it at the correct angle and formed for fit to the faring. He had to be careful since he found out that the bust was hollow.

For the eyes, he used " large cranberry marbles which we referred to as clod nockers when I was little"

Then, he installed these in the correct position and epoxy tacked around the perimeter

He used the reflector from two cheap aa flashlights and capped over the marbles epoxy into place

Then he used the bulb holder drilled out the contact tap and installed a frosted clear peewee marble to diffuse the white light evenly

He then screwed bulb holder to hold the small marble in place then attached a 1/4" tube to each reflector to guide led to position

He added 1/4 x20 stainless anchors in a triangle attachment and tht finished it up.

The paint and gold leaf was done by his good friend "Gris" from AIR ART.
Bobby is from a small town called Clover in South Carolina just outside of Charlotte North Carolina. What's next for his creativity? "Any folk art steam punk themed don't know if will ever materialize but would love to build a all stainless bike terminator theme 2" thick hand blown glass gas tank illuminated from the bottom I can see it in my head. Thanks .Bobby Dulin sincerely"
[powr-photo-gallery id=9be7cf14_1459526632]
Follow Art In Motion on the Official Art In Motion LLC Fan Page to find out how to be featured on our artists' spotlight