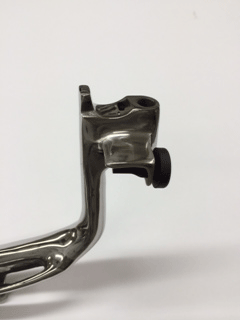 No. Aftermarket Parts Do Not Void Your Motorcycle Warranty.
Almost every recent motorcycle sale we have heard of at a large motorcycle dealership in our area has involved a salesperson telling the customer, "If you don't get your motorcycle serviced here, you will void your warranty".
It is Illegal For Dealers To Say Otherwise!
Here is some of what we have heard and read about recently:
Putting on parts other than "our genuine parts" will void your warranty!

A flag that is too big will void your warranty (yes - see Cyril Huze Blog for this one)

Getting your motorcycle serviced anywhere than a dealership will void your warranty

You have to use genuine motor oil sold by our dealership or you will void your warranty
What Types of Motorcycle Warranties Are There?
There are two types of motorcycle warranties.
Expressed Warranty - When you buy a vehicle, the manufacturer makes an offer to you, the owner, to assume the responsibility for problems with predetermined parts during a stated time period.
Implied Warranty - Beyond what they write down, a motorcycle manufacturer is often held responsible for implied warranties that state that the manufactured product should meet certain standards
What Do Do If Your Warranty Claim Is Denied
If a dealer denies a warranty claim involving an implied or expressed new motorcycle warranty, and you would like to help stop this practice, you need to take action. Obtain a written copy of the refusal to honor the warranty. Then, Contact the Federal Trade Commission (FTC). The FTC works for all of us to prevent fraudulent, deceptive and unfair business practices in the marketplace and to provide information to help you spot, stop and avoid them. To file a complaint, you can call toll-free, 1-877-FTC-HELP (1-877-382-4357), or use the online complaint form. This information is put into the Consumer Sentinel, a secure, online database available to hundreds of civil and criminal law enforcement agencies worldwide.
If a dealer denies a warranty claim having to do with emissions or the clean air act such as emission part failure, get a written explanation of the dealers refusal to honor the warranty. Then follow the steps outlined in your motorcycle owners manual. However, if this fails, then phone your complaint in to the EPA at (202) 233-9040 or (202) 326-9100.
What About Extended Warranties?
After a dealer's salesperson has scared you away from your reasonable cost service option by telling you you can't go to independent shops, they show you their labor rates ($50/30 minutes) and then they offer you an extended warranty for additional cost and usually bundle it in with your financing. That is major OUCH to your wallet that they hide in your monthly payment.
Before you buy an extended warranty, read http://www.fool.com/investing/general/2014/02/17/is-harley-davidson-the-worst-motorcycle-money-can.aspx) for statistics on how much you are really likely to spend on a new motorcycle repair.
What Is The Magnuson-Moss Act ? The Lemon Law that Protects Your Consumer Rights
Wikipedia Definition: http://en.wikipedia.org/wiki/Magnuson%E2%80%93Moss_Warranty_Act
The remainder of this page's information was obtained from the Impala Superstore Web Site. Someone there did all vehicle owners a service by compiling this information.
On January 4, 1975, President Ford signed into law the Magnuson-Moss Warranty Act, Title 1, ..101-112, 15 U.S.C. ..2301 et seq. This act, effective July 4, 1975, is designed to "improve the adequacy of information available to consumers, prevent deception, and improve competition in the marketing of consumer products. . . ." The Magnuson-Moss Warranty Act applies only to consumer products, which are defined as "any tangible personal property which is distributed in commerce and which is normally used for personal, family, or household purposes (including any such property intended to be attached to or installed in any real property without regard to whether it is so attached or installed)." Under Section 103 of the Act, if a warrantor sells a consumer product costing more than $15 under written warranty, the writing must state the warranty in readily understandable language as determined by standards set forth by the Federal Trade Commission. There is, however, no requirement that a warranty be given nor that any product be warranted for any length of time. Thus the Act only requires that when there is a written warranty, the warrantor clearly disclose the nature of his warranty obligation prior to the sale of the product. The consumer may then compare warranty protection, thus shopping for the "best buy." To further protect the consumer from deception, the Act requires that any written warranty must be labeled as either a "full" or a "limited" warranty. Only warranties that meet the standards of the Act may be labeled as "full." One of the most important provisions of the Act prohibits a warrantor from disclaiming or modifying any implied warranty whenever any written warranty is given or service contract entered into. Implied warranties may, however, be limited in duration if the limitation is reasonable, conscionable, and set forth in clear and unmistakable language prominently displayed on the face of the warranty. A consumer damaged by breach of warranty, or noncompliance with the act, may sue in either state or federal district court. Access to federal court, however, is severely limited by the Act's provision that no claim may be brought in federal court if: (a) The amount in controversy of any individual claim is less than $25,000; (b) the amount in controversy is less than the sum or value of $50,000 computed on the basis of all claims in the suit; or (c) a class action is brought, and the number of named plaintiffs is less than 100. In light of these requirements it is likely that most suits will be brought in state court. If the consumer prevails, he is awarded costs and attorneys' fees. Nothing in the Act invalidates any right or remedy available under state law, and most suits should proceed on claims based on both the Code and the Act.
The Magnuson-Moss Warranty Act is the federal law that governs consumer product warranties. Passed by Congress in 1975, the Act requires manufacturers and sellers of consumer products to provide consumers with detailed information about warranty coverage. In addition, it affects both the rights of consumers and the obligations of warrantors under written warranties.
Second, Congress wanted to ensure that consumers could compare warranty coverage before buying. By comparing, consumers can choose a product with the best combination of price, features, and warranty coverage to meet their individual needs.
Finally, Congress wanted to strengthen existing incentives for companies to perform their warranty obligations in a timely and thorough manner and to resolve any disputes with a minimum of delay and expense to consumers. Thus, the Act makes it easier for consumers to pursue a remedy for breach of warranty in the courts, but it also creates a framework for companies to set up procedures for resolving disputes inexpensively and informally, without litigation.
In order to understand how the Act affects you as a businessperson, it is important first to understand what the Act does not require.
Second, the Act does not apply to oral warranties. Only written warranties are covered.
Finally, the Act does not apply to warranties on products sold for resale or for commercial purposes. The Act covers only warranties on consumer products. This means that only warranties on tangible property normally used for personal, family, or household purposes are covered. (This includes property attached to or installed on real property.) Note that applicability of the Act to a particular product does not, however, depend upon how an individual buyer will use it.
What the Magnuson-Moss Act Requires
The Act and the Rules establish three basic requirements that may apply to you, either as a warrantor or a seller.
As a warrantor, you must designate, or title, your written warranty as either "full" or "limited." As a warrantor, you must state certain specified information about the coverage of your warranty in a single, clear, and easy-to-read document. As a warrantor or a seller, you must ensure that warranties are available where your warranted consumer products are sold so that consumers can read them before buying.
What the Magnuson-Moss Act Does Not Allow
There are three prohibitions under the Magnuson-Moss Act. They involve implied warranties, so-called "tie-in sales" provisions, and deceptive or misleading warranty terms.
The Act prohibits anyone who offers a written warranty from disclaiming or modifying implied warranties. This means that no matter how broad or narrow your written warranty is, your customers always will receive the basic protection of the implied warranty of merchantability.
There is one permissible modification of implied warranties, however. If you offer a "limited" written warranty, the law allows you to include a provision that restricts the duration of implied warranties to the duration of your limited warranty. For example, if you offer a two-year limited warranty, you can limit implied warranties to two years. However, if you offer a "full" written warranty, you cannot limit the duration of implied warranties.
"Tie-In Sales" Provisions
In order to keep your new Plenum Brand Vacuum Cleaner warranty in effect, you must use genuine Plenum Brand Filter Bags. Failure to have scheduled maintenance performed, at your expense, by the Great American Maintenance Company, Inc., voids this warranty.
While necessary maintenance or repairs on your AudioMundo Stereo System can be performed by any company, we recommend that you use only authorized AudioMundo dealers. Improper or incorrectly performed maintenance or repair voids this warranty.
Deceptive Warranty Terms
Obviously, warranties must not contain deceptive or misleading terms. You cannot offer a warranty that appears to provide coverage but, in fact, provides none. For example, a warranty covering only "moving parts" on an electronic product that has no moving parts would be deceptive and unlawful. Similarly, a warranty that promised service that the warrantor had no intention of providing or could not provide would be deceptive and unlawful.
Two other features of the Magnuson-Moss Warranty Act are also important to warrantors. First, the Act makes it easier for consumers to take an unresolved warranty problem to court. Second, it encourages companies to use a less formal, and therefore less costly, alternative to legal proceedings. Such alternatives, known as dispute resolution mechanisms, often can be used to settle warranty complaints before they reach litigation.
The Act makes it easier for purchasers to sue for breach of warranty by making breach of warranty a violation of federal law, and by allowing consumers to recover court costs and reasonable attorneys' fees. This means that if you lose a lawsuit for breach of either a written or an implied warranty, you may have to pay the customer's costs for bringing the suit, including lawyer's fees.
Although the consumer lawsuit provisions may have little effect on your warranty or your business, they are important to remember if you are involved in warranty disputes.
Although the Act makes consumer lawsuits for breach of warranty easier to bring, its goal is not to promote more warranty litigation. On the contrary, the Act encourages companies to use informal dispute resolution mechanisms to settle warranty disputes with their customers. Basically, an informal dispute resolution mechanism is a system that works to resolve warranty problems that are at a stalemate. Such a mechanism may be run by an impartial third party, such as the Better Business Bureau, or by company employees whose only job is to administer the informal dispute resolution system. The impartial third party uses conciliation, mediation, or arbitration to settle warranty disputes.
Be adequately funded and staffed to resolve all disputes quickly; Be available free of charge to consumers; Be able to settle disputes independently, without influence from the parties involved; Follow written procedures; Inform both parties when it receives notice of a dispute; Gather, investigate, and organize all information necessary to decide each dispute fairly and quickly; Provide each party an opportunity to present its side, to submit supporting materials, and to rebut points made by the other party; (the mechanism may allow oral presentations, but only if both parties agree); Inform both parties of the decision and the reasons supporting it within 40 days of receiving notice of a dispute; Issue decisions that are not binding; either party must be free to take the dispute to court if dissatisfied with the decision (however, companies may, and often do, agree to be bound by the decision); Keep complete records on all disputes; and Be audited annually for compliance with the Rule.
It is clear from these standards that informal dispute resolution mechanisms under the Dispute Resolution Rule are not "informal" in the sense of being unstructured. Rather, they are informal because they do not involve the technical rules of evidence, procedure, and precedents that a court of law must use.
As stated previously, you do not have to comply with the Dispute Resolution Rule if you do not require consumers to use a mechanism before bringing suit under the Magnuson-Moss Act. You may want to consider establishing a mechanism that will make settling warranty disputes easier, even though it may not meet the standards of the Dispute Resolution Rule.
You can view a slightly more detailed legal explanation of the Magnuson - Moss Warranty act of 1975 by clicking on the following link: http://www.pipelin e.com/~rmantis/webdoc14.htm
Sources of the above information include:
Superchips Inc. Newsletter /

Car Craft September 1994 issue.

Federal Trade Commission Website.

State Bar of Texas Website (texasbarcle.com)