Posted by Art In Motion Customizing Department on 19th Apr 2016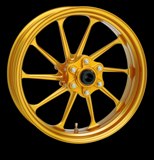 We get a lot of questions about the cost of aftermarket motorcycle parts compared to aftermarket car parts. This difference is especially prominent on trike conversions and wheels. When we quote a trike conversion and try to match rear wheels to a custom front wheel, the delta between the prices is pretty hefty.
The answer lies in basic economics - compared to other vehicle types, the motorcycle market is very small which means that it is very expensive to produce something custom. If the motorcycle industry were larger, then the price of the motorcycle parts would be closer to the prices of the car parts.
Question

: "I've been searching online for motorcycle wheels and they are so expensive compared to car rims"
Answer: There are a lot more registered cars than motorcycles. Click the two links below for United States statistics. For example,Florida has 7,426,955 registered cars but only 555,602 registered motorcycles
Example: It takes 7500 man hours at an average rate of $30/hr, plus materials for a manufacturer to do the research and development on a new CNC cut wheel design. If you only sell 1000 of them, then it works out to $225/wheel just in R&D Cost! Add to that the cost of product liability (~150/wheel) and the cost of labor, materials, finishing and capital to make the product itself. And if the company wants to stay in business, then they need a fair amount of profit. So this easily puts the wheel price up at $800 or more. Add something fancy like solid billet CNC machining and a one-off design, and you are looking at a $5000 motorcycle wheel.
Question:

Why aren't custom motorcycle wheels in stock?
Answer: Most motorcycle wheels are cut on demand at the manufacturer. Especially when you want something unique, or when you want to resurrect an old design. The larger manufacturers stock the most commonly purchased items but the more unique you want your design to be, the longer it is going to take to get it.
The bottom line is that the motorcycle customizing industry is not big enough to keep the cost of parts low. Take a look at the supply & demand article for more of the background on this.